I'm going to be moving into an apartment with my girlfriend soon, and I decided it was time to upgrade along with the move. I didn't want to deal with custom plumbing, or anything like that, so I looked at the pre-configured options. Red Sea was an obvious one, but then I heard about Waterbox. For the price, I got way more out of Waterbox than Red Sea.
I ordered my tank near the end of July. It stated there was a 2-4 week back order. 7 weeks later, my new tank finally arrived. Unfortunately I am going out of town later this week, so hopefully at the beginning of October I'll finally be able to begin setup.
The beauty, still in its crate: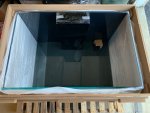 The sump and everything packaged in the crate: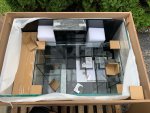 And the current new toys I got for the new build: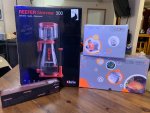 I will be doing product reviews on everything as I begin setup and unboxing, so be sure to keep an eye out for those. I'll also be updating this thread as the tank progresses.
Current Equipment List:
-Apexel Controller
-Neptune Cor15 return pump
-Red Sea 300 Skimmer
-Finnex 300-watt Titanium Heater
-Kessil AP700 Light
-Ecotech MP40QD
-XP Aqua Duetto ATO
-Tunze Chaeto Reactor
-Coralbox Wifi Dosing Pump
Last edited: