Administrator
Staff member
This is the Holiday Giveaway Grand Prize! You will have a 5 days to post a comment below to get into the contest. Premium Members only are eligible for the drawings and you must post in this thread to be entered into this giveaway.
If you are not a premium member you can join by going to member in the top navigation bar and follow the links.
This giveaway is for a Sicce Xstream SDC Wifi Controllable wave pump. This is a high quality controllable power head that is compact and powerful.
You have until 1/8/2020 9pm CST to post below. You may only enter once. Sometime after 9 pm on 1/8/2020 I will post and contact the winner.
Thanks again to everyone who supports the website and Happy New Years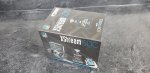 Last edited: