Happy Mother's Day to all the Mother's.
Quick update:
I have had my po4 drop out on me after the chaeto I had exploded. I had to counter the drop by heavy feeding and dosing NeoPhos by Brightwell. I also took out about half of the chaeto. After a few days I'm now sitting around 0.06-0.1 ppm. No3 is currently 10 ppm. I'm going to try and run the tank around those levels for the time being and see how it reacts. Polyp extension has been crazy on my pc rainbow and my monti's are looking really happy too.
PC Rainbow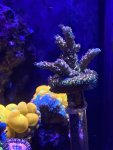 Wild Acro - Similar to Rainbow Loom. It lost all its purple tips but I can start to see it return on some new growth.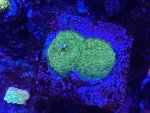 Beach Bum Monti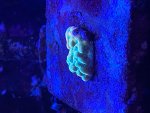 Crazy T